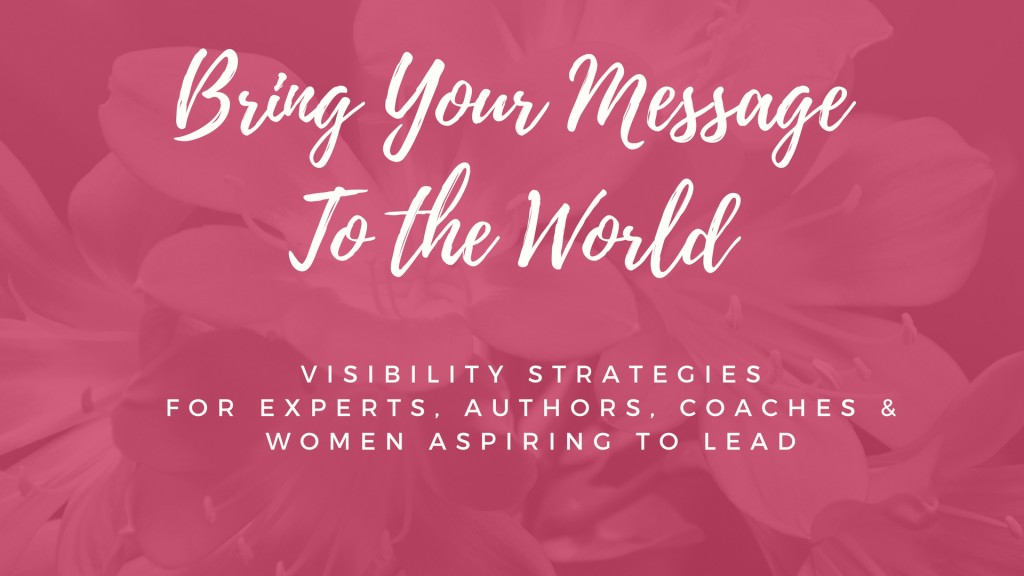 You know you have a powerful mission and message . It's time for you to speak, write, and promote yourself. It's time to step into the spotlight and I want to support you in bringing your message to the world. Why? Because your voice can create powerful change.
Activate Your Personal Power
This coaching package is for you if you've recently experienced a loss like illness, divorce or job change. Also for you if you are in transition and looking to find more meaning in your life and career.
Action is a great healer. Action clarifies. Action gets you moving.
We'll look at where you've been hurt, where you're leaking power and activate strategies that gently bring you back into your power. You'll feel energized, more confident and propelled to move forward with passion and courage towards your next goal.
1 hour session $200


3 sessions $580


---
Amplify Your Writer's Voice
Writing is a BIG part of leadership. Leaders influence and persuade through their ideas. That's their gift. Get clarity around your idea through writing.
This coaching package is for you want to learn how to become a GREAT storyteller, if you feel you don't have a voice, have trouble speaking up at work or want to write authentically and with greater confidence and power. We'll look at your writing style and voice. We'll resolve any communication blocks and obstacles, free your voice with writing techniques and help you become a confident communicator.
Whether you want to create persuasive, strategic presentations,, blog on topics you care about, or publish your transformational story, we will improve your writing so you can inspire, inform and call people to action.
You'll feel a clearing in your energy and will have the tools to communicate in a new way. Weekly writing practices will empower you to hold the transformation after our coaching sessions are completed.
This is for people who want to start writing, become business storytellers, ask for a promotion at work, speak at an event, and become an author or speaker. Being a great storyteller allows you to get all these things.
1 hour session $200


3 sessions $580


---
Position Yourself As An Expert
This coaching package is for you have been healing, writing, counseling or working in the corporate world for a while. You want to take your brand and practice to the next level, be seen as a subject matter expert in your field, so you can LEAD with more influence and surround yourself with an influential network.
We'll look at your brand properties and see how you are communicating your mission and your message, differentiating yourself with a platform, and how to elevate your content.
We'll also clear any blocks you have around visibility, perfectionism and going bigger.
You'll learn how to create content that connects you to your audience. You'll get a go-to-market strategy on how to implement a newsletter program, podcast, weekly blog posts as well as networking strategies in the online space and within women's groups. We'll target different publishers where an eager target audience is waiting for your message and look into self-publishing options.
You'll feel your visibility quotient go up as you align yourself with movers and shakers in your field and give your name and brand a broader reach.
This is for young professionals, coaches, healers and authors who want to up level their brand, increase visibility and become widely known for their message.
1 hour session $200


3 sessions $580


---
Powerhouse Visibility Session
(60-Minute Power Coaching Session)
Are you ready to be more visible? Are you ready to use your voice to create change?
You know you have powerful mission and message and you just can't hold it in any longer. I know that feeling and I know you also need someone who listens to you, someone who celebrates you, supports you. You need your own personal advisor and cheerleader. That's where I come in! You will get a 60-minute private coaching session with me and I will give you the support and confidence boost you need to step into the spotlight. Stepping into the spotlight can be scary because we're pushing through a lot of old fears, perfectionism and we risk being vulnerable when we speak our truth. But we have to do it. Now is the time. If you know you've been hiding in the shadows and missing opportunities to share your powerful message, then this session will give you the breakthrough you've been waiting for.
I will help you to build up your confidence and courage so that you can take the stage and own every room you walk into. I will teach you how to become a magnet for people's attention and craft a personal story that no one will forget.
In this session, you will:
Get clear on what limitations are you holding you back (fear, permission, discovery of what they want to speak up about, fear of rejection, fear of what other people will think)
Get clear on your story, message and stage
Identify and breakthrough your number one visibility issue
Embody and hold physical space with your body and voice
Unlock your confidence in yourself and your work
This breakthrough session includes:
1 60-minute coaching call on Skype
Know what kind of story you're going to tell and what kind of speaker you are with a personal assessment
A questionnaire to pinpoint where you need help to grow and expand
This session is for you if …
You know you've been hiding your work from the world and playing small.
You feel suffocated creatively because you aren't expressing your feminine message.
You want to join a community, add your voice and passions to that community, and raise awareness about an interest that you have
You know you have a powerful message inside of you, but feel overwhelmed and don't know where to start, whether that's writing, speaking or podcasting.
You also get …
Actionable steps to keep you going after our session
My FREE webinar and eBook on "How To Reclaim Your Power and Truth"
Storytelling and speaking resources I have personally curated for you
1 hour session $250


---
Please email me if you are interested in starting private coaching with me at zinnia.gupte@gmail.com or schedule a free consultation. I look forward to supporting you!
---
How Zinnia Helps Women…
"Zinnia I just wanted to sincerely thank you. Since doing the Personal Power Activation with you, it is amazing, I feel I have completely let go of any blocks that were still within me and that I have fully taken back my power in all forms.

You are so gifted Zinnia and I am blessed to have met you."

– Tamar Groll, Founder of Tamar Gail & Embodiment Coach
"Before working with Zinnia, I was still in limbo about myself and the direction I needed to take and my throat still feeling tight when I speak. The words she said I needed to hear and still hear her guidance today.

Thank you for blessing me with that moment because whatever light you helped bring out was another step to fully being in my power and no longer being bind by my story. Once again thank you for your support."

– Shanna Maria, Founder of Soul School
"Thank you for your inspirational "Position Yourself As An Expert" workshop. I took away key actionable strategies that you taught to us at the STEEAMnista Summit for women in tech and STEM."

– Alissa Lentz, Founder at HERO NEW YORK
"A couple of years ago I went to my first ever Healing Ibiza event and had some major life changing shifts take place as a result of a number of things but in particular as a result of working with Zinnia. This day marked a turning point for me, coming out a dark period where I had lost my self confidence and certainly was not feeling like a very empowered woman. Now I have my own business sharing my creative gifts and sitting on the planning committee of Healing Ibiza. For both of us to be a part of the committee helping to manage and market the event is a dream come true. I am properly honored to be taking on this role and I only hope I can give back to this event and this event what it has given to me."

– Lisa Chadderon, DJ and PR Specialist
"Zinnia's clear, intuitive and divine guidance not only have me insight and pointers for my next steps on my soul path, it also enhanced my confidence and faith. I listen to our coaching session reading every so often to remind myself of what is important to me and what I should focus on. I enjoyed Zinnia's loving, caring and passionate energy and felt she genuinely cared about me and supported my personal growth. I've grown from working with Zinnia and her powerful teachings as I am surrendering more. Listening to my heart and intuition. And if I get caught up in my male energy too much, I listen to her reading."

– Cindy Ritmeester, Mindfulness Coach for Professional Women
"Zinnia has the ability to inspire passion, creativity and confidence in those she works with. I have been blessed to receive her love and inspiration to guide my professional path. She has seen my strengths, guided my way and generously shared her love in key moments that have transformed my journey. Her absolute commitment to her true soul mission shines through and inspires those around her to follow their path, whatever challenges may arise.

I cannot recommend Zinnia highly enough. I encourage you to experience her being, her passion and her wisdom first-hand as a way to bring power and courage to your journey."

– Diana Beaulieu, Founder of Sacred Woman Coaching
    www.sacredwomancoaching.com
Zinnia Has Been a Featured Expert In: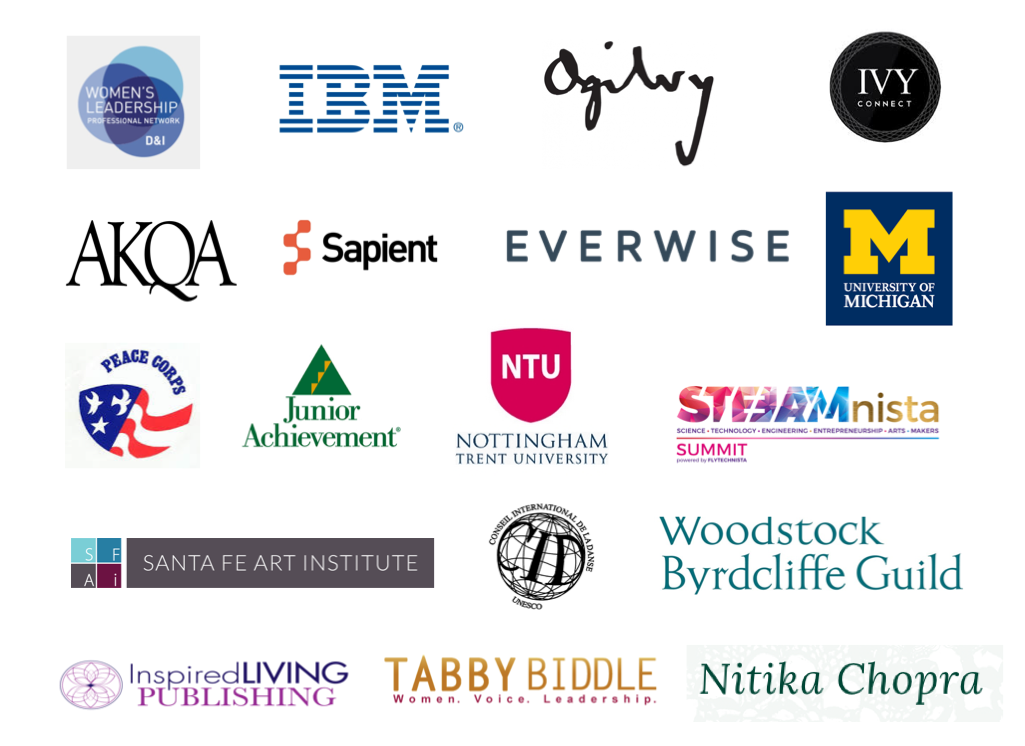 About Zinnia: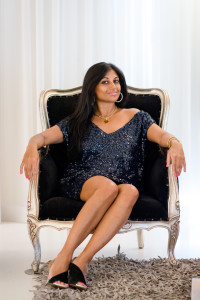 Zinnia Gupte is a feminine empowerment expert and women's leadership mentor. She is the author of the #1 Amazon bestselling book, Messages From Shakti. Through her writing, speaking appearances, podcast, group retreats and private coaching practice, Zinnia has mentored hundreds of women from young professionals, to business leaders, to creative & advertising managers, to women in tech and STEM, to writers and entrepreneurs. She is passionate about helping women step up into leadership roles in their fields. She is an award-winning writer who has won scholarships from the Santa Fe Art Institute and Byrdcliffe Artist Colony.
Her feminine wisdom has been featured alongside visionary authors like Marianne Williamson, Colette-Baron Reid, Chameli Ardagh and Christine Carlson. Zinnia received her MA in Creative Writing from Nottingham Trent University in the UK and her undergraduate degree in Industrial Engineering from the University of Michigan. She divides her time between New York and Ibiza, Spain