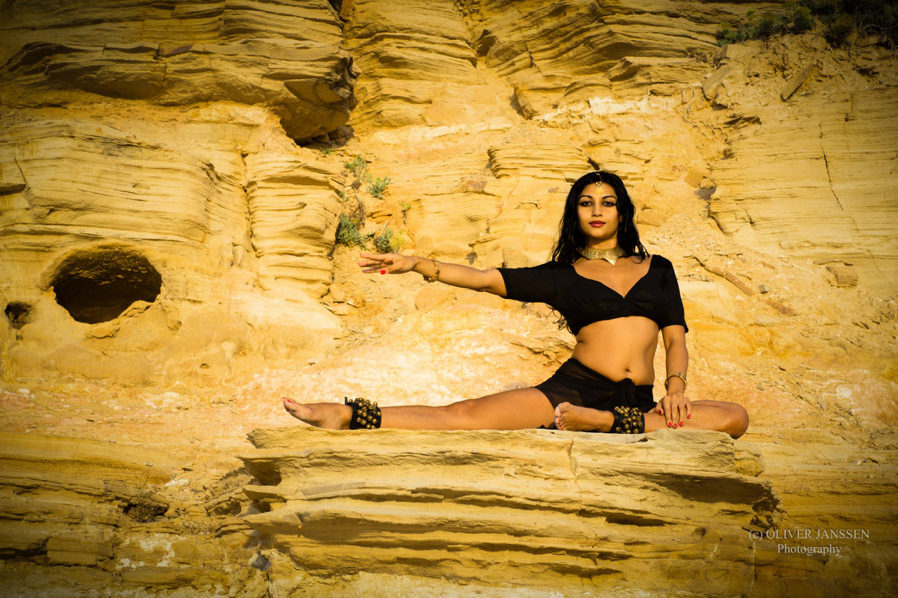 I am a Priestess, I have always known this. A sacred priestess of Shakti.
I have had dreams and memories of this since I was about 6 years old. I was teased as a child for my power and intuition by other children in school when it wasn't cool, because of my energy, my intensity, and my wild black hair. I continued dancing to the rhythms of Indian music and Ma Shakti as a teenager in festivals, pujas, concerts and in the temples of Calcutta.
Over the course of my life, I was drawn to sacred sites in various parts of the world, and at each one of them I had strong memories.  At 17, I went to the Dhakineswar Temple on the Ganges in Kolkata. This is where my grandmother prayed and where my mother prayed. In the Mayan temples of Palenque, Mexico, I had a full bodied sense of being there, many ages ago, walking around and within the standing stones, doing ceremonies on Full and New Moons. I went to Santorini, Greece and bought a blue and gold sequined dress, which was magical to me.
All the ancient sites were always built on top of older Goddess worshipping sites. When I visited Egypt I felt totally at home, knowing that I had been there in previous lives. When I went to Knossos in Crete, an ancient Goddess centered civilization, I felt very powerfully connected to magic.
But all that changed one day…
DIVORCE AND A VISION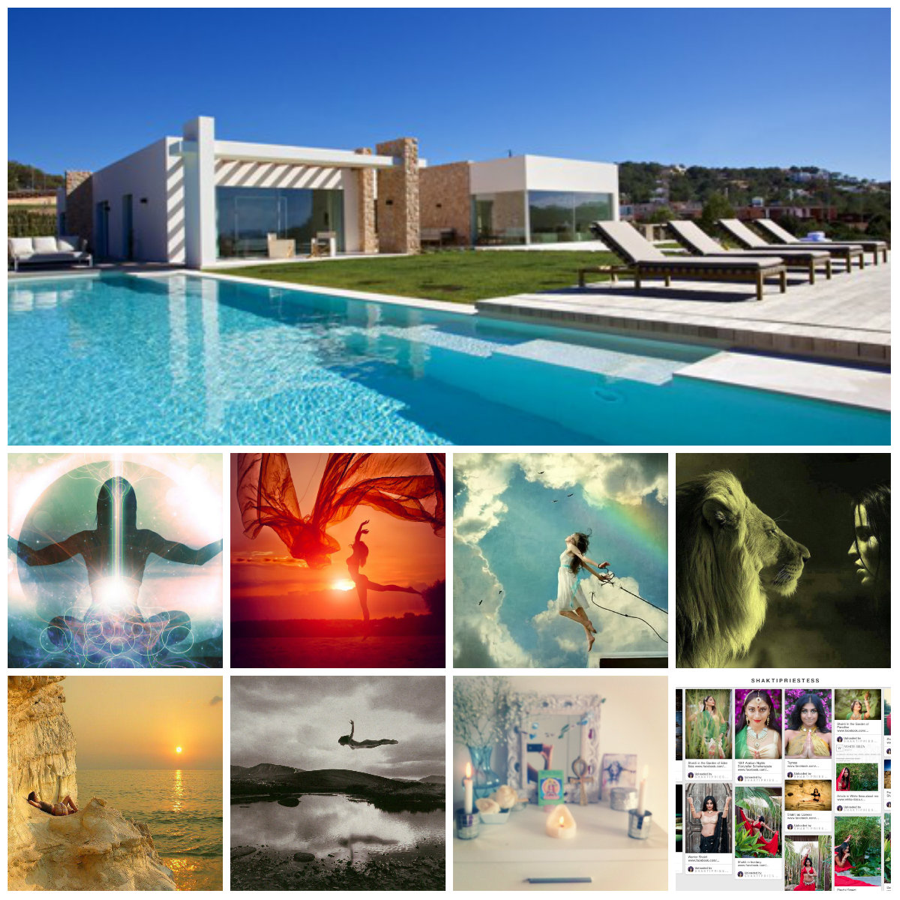 In 2010, I started a painful separation and divorce process. Divorce felt like spiritual abandonment; it was crippling, frustrating, and joy-stealing. Some days, I locked myself in my office and cried for hours, thinking, "Who will love me now?"
I was an advertising executive working in San Francisco and New York, but I dreamed of a life that looked very different from my current high-powered, high-stress career. One year in the Mediterranean: that was what I wanted.
I'd always been scared to pursue my dream. And so, I took the first step, and created a vision board for "My Life in Spain."
Piece by piece, I wove the images together on emerald green paper, the color of abundance. I wanted the vision board to hold all of my heart's deepest desires.
I wanted to heal and feel healthy, so I collaged images of turquoise blue waters, a woman in red silk dancing in the sea, fresh green salads and strawberry smoothies, and happy people toasting with wine glasses in the sunlight.
I wanted a pure white home with skylights and a spacious veranda with silk curtains that flowed in the breeze. I wanted a community, so I fitted images of people praying in an ashram and women dancing in a circle, their muslin veils flying through the air. Tears fell on the board like large raindrops as my heart began to open.
DANCING IN IBIZA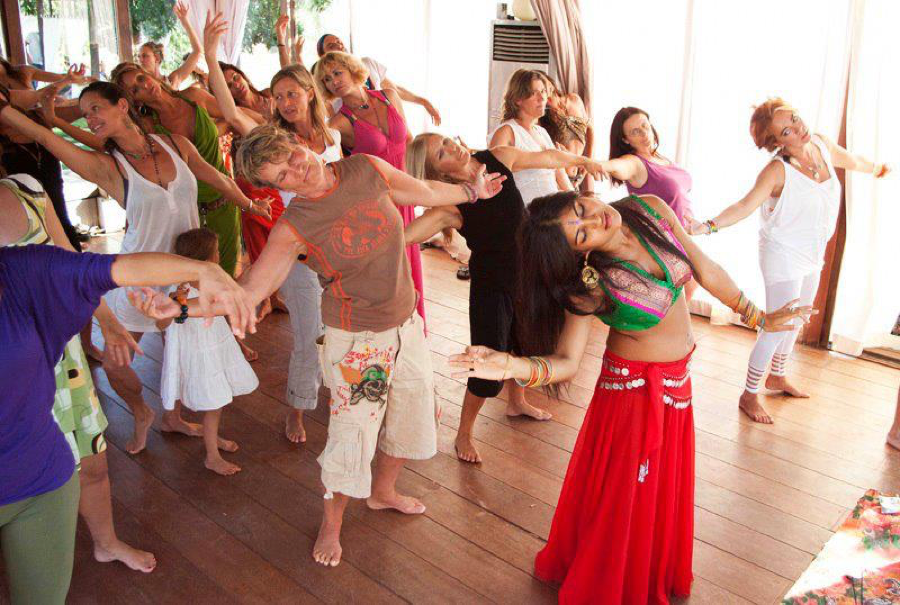 In 2011 I came to live in Ibiza, a small Mediterranean island off the coast of Spain. I had just separated with my husband and had come to rejuvenate and reinvent myself.
I came to Ibiza divorced, without a home, broken, with no hope for the future.
The spirit and healing power of the island cleansed me. She breathed life back into my bones… regenerated me.
I found myself at the most popular healing festival in Ibiza. Thousands of people walked among the orange groves in a Balinese-style luxury hotel, exchanging ideas and showcasing their gifts.
I walked into the dance temple and slowly created a Goddess altar with red rose petals, incense, and a photo of Goddess Lakshmi. The music began, and I closed my eyes. The sounds of tabla, flute, and sitar flowed through me. I swayed, swirled, and opened my heart to the sky. The other dancers, with their crimson veils, followed with grace.
Something was in the room with us that day. A light. A force. I could feel it. We could feel it. That day, in the temple, we were all flowers blossoming, turning our hearts to the sky, mouths open in awe; women dancing in pure ecstasy.
The creativity I felt, the freedom and feminine life force, the joy …It had a name. Shakti. And I was meant to teach it.
DESIRING AND CREATING

I embodied the priestess in performances. I performed as Saraswati, Lilith, Inanna and Salome, which I helped co-created with sacred musicians and artists.
Within a year, I was invited to dance in Turkey, Greece, even Bali. Within two years, I was being interviewed in magazines, on the radio, and on television about dance and the teachings of Shakti.
I manifested my dream home, a beautiful white, healing home by the Mediterranean Sea…
Within three years I had created a dance school called Sacred Dance Ibiza and a mentorship program, Shakti Priestess.
And over the next several years, I discovered infinite possibilities and sacred manifesting techniques that lead me to…
Feeling abundant and traveling the world teaching Shakti
Deep healing, wellness, health, rejuvenation and body transformation
A 6 figure income
Two "women's inspirational living" book deals…
Becoming an Author
Media requests on TV, radio, podcasts and in magazines…
Funding for my heart-centered lifestyle brand
A supportive network of inspirational speakers, coaches, authors, thought leaders, lifestyle brand experts, festival organizers, partners and a dream team who would help me execute my vision.
I never lost hope. I never gave in to the powerlessness and loneliness I was feeling. I held my power and gave a vision and voice to my dreams. 
When it comes to manifesting a life I love based on my values, deepest desires and joyfulness…I BELIEVED. I became a CREATOR.
I believe that inside every woman there is a magnetic force, a fountain of power and joy just waiting for her to be brave enough to touch it. She can create anything with this power: a life she loves and deserves, full of joy, passion and purpose. Every woman can shine her light, share her gifts and empower others.
Every woman has this power, this wisdom, this vision. And it is medicine for the world.
Join me on a journey of self-discovery, empowerment, passion and freedom!
Kundalini Awakening Stories
Awakening My Inner Goddess
Hidden Tigress, Dancing Dragon
The Return of Shakti
Click here to read the stories